Construction work is essentially complete at ANOVA UCity Square, a 463-unit mixed-use development located at 3700 Lancaster Avenue in University City, West Philadelphia. Designed by Lessard Design and developed by GMH Capital Partners and Wexford Science and Technology, the building stands six stories tall, with retail space along Lancaster Avenue and apartments above. The building is a part of the greater uCity Square megadevelopment, which is set to become one of the most major office and laboratory hubs in the city. A total of 157 parking spaces are also included within the project.
The building features a modern exterior, with brick on the ground floor making for a pleasant street presence. The upper floors are clad in different variations of gray cladding, ranging from light to dark shades and varying between smooth and corrugated surfaces. Large windows and balconies throughout the exterior also improve the appearance of facade.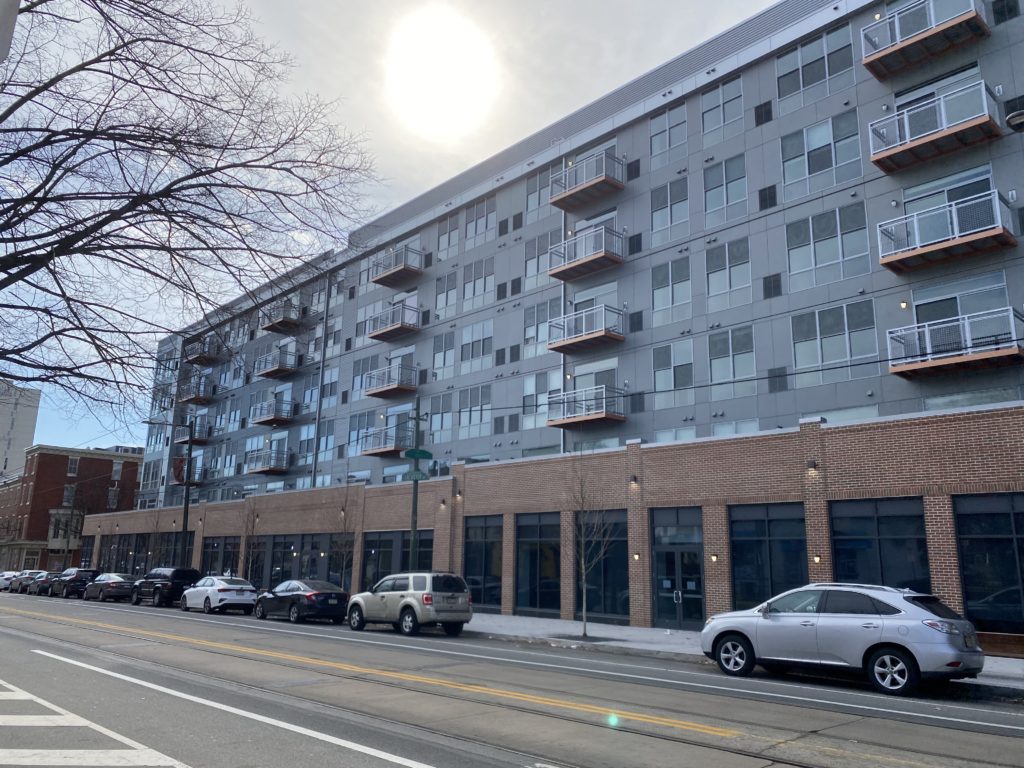 The new building came out as renderings suggested, with attractive brickwork and street trees shaping up in reality to a pleasant effect. Gray cladding on the upper floors also came out nicely.
The building's sidewalk-aligned street wall and massing also improve the location, most especially along Lancaster Avenue, which is rapidly becoming a major commercial corridor. The high density of the project is something that will hopefully be replicated further throughout the surrounding area.
The structure is a major improvement for the site, adding hundreds of residential units on a site that formerly housed none. This massive density increase will be great for the surrounding businesses, as well as for providing 24/7 life at uCity Square. Given the explosive growth that University City has been seeing as of late, the major boost to the housing market is certainly a welcome addition. Hopefully, more projects of this scale and density will be added throughout this section of West Philadelphia moving forward.
In time, the retail space should be filled, especially considering the influx of residents. Once this happens, the building's contribution to the neighborhood will reach its maximum potential, and will encourage further development along Lancaster Avenue.
Overall, the project turned out very well, and is certainly a welcome addition to West Philadelphia.
Subscribe to YIMBY's daily e-mail

Follow YIMBYgram for real-time photo updates
Like YIMBY on Facebook
Follow YIMBY's Twitter for the latest in YIMBYnews