Façade work is nearing completion at 1422 Point Breeze Avenue in Point Breeze, South Philadelphia. The building rises four stories tall, with a roof deck at the top. There are 42 residential units within the property, as well as retail space on the ground floor. JKRP Architects handled the design work for the project, with OCF Realty as the developer.
The new building features an attractive, industrial design. The entire street-facing facade is comprised of brick, from the ground floor to the top floor. Some brick detailing at the top of the fourth floor act as a cornice, and window sills below each window help add more design intricacy as well. Windows are arranged in rows in columns, with each windows in a given column the same size, and providing relative uniformity to the design. What adds more variation, however, are the scattered balcony spaces, which provide outdoor spaces for units, as well as add shape to the building. At the ground floor, full-height windows help create a good street presence that will be solid to have once completed.
The structure has replaced a once-attractive two-story mixed use building. What wasn't covered up on the front facade could still be seen on the second floor, where brown brick, paired with stone trim, made for something with potential. Looking at the ground floor, however, this potential vanished, with the commercial space having robbed the structure out of its former glory, replacing it with a boarded up wall. The one-story portion of the former supermarket was also demolished to make way for the new project.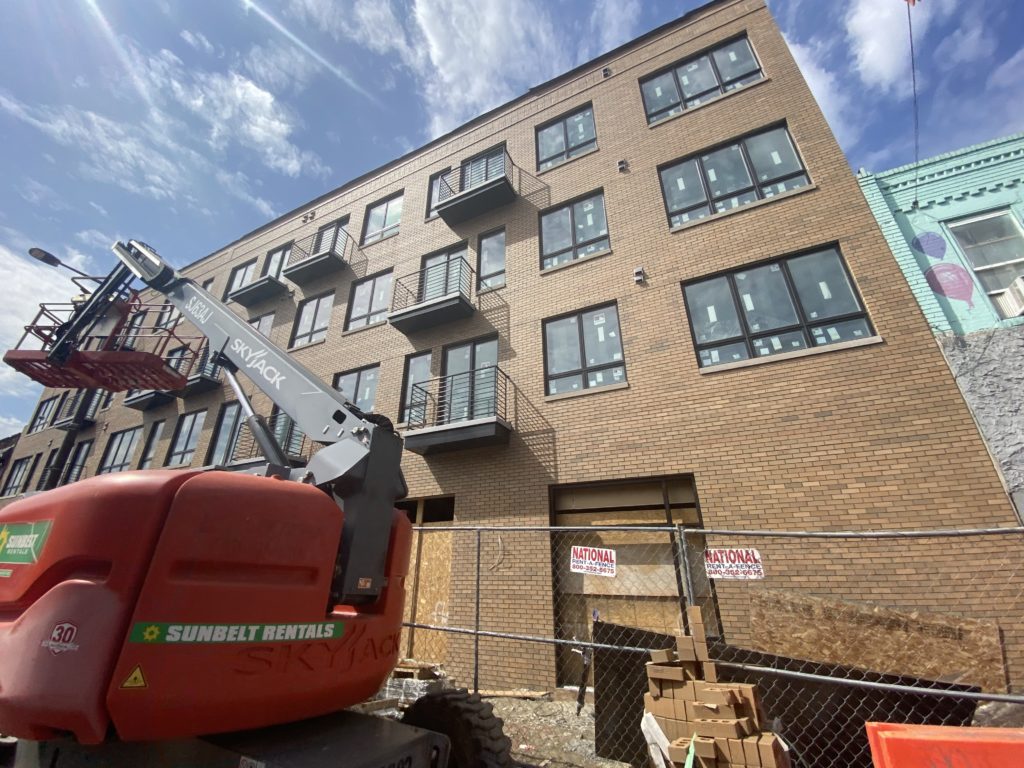 Now, work seems to have made lots of progress on the development, with the outside of the structure very close to being completed. The building has obviously one been topped out and fully framed, with windows installed, as well as the brick. The result is a building that looks incredibly similar to renderings, and the attractive facade stands out and looks great on the blossoming corridor. The overall massing and street wall provided by the new building helps provide something to Point Breeze Avenue that has been missing, and hopefully serves as an example of what to recreate on the street moving forward.
Some work still awaits, however, with a couple of the last touches on the outside. A few balconies still need railings, and the windows/doors on the ground floor await completion, though this is usually one of the last things to be done in new development. Of course, interior work is still making progress, readying the structure for its future residents, although the finish line is certainly in site.
No official completion date is known for the project, although the building could likely wrap up construction in coming months.
Subscribe to YIMBY's daily e-mail

Follow YIMBYgram for real-time photo updates
Like YIMBY on Facebook
Follow YIMBY's Twitter for the latest in YIMBYnews