Construction is progressing on the Drexel College of Nursing and Health Professions tower in University City, West Philadelphia, where two tower cranes were recently assembled. Designed and developed by Wexford Science & Technology LLC, the 12-story building will stand 185 feet tall and yield some 600,000 square feet, greatly bolstering Drexel's portfolio and adding density to the skyline of the growing neighborhood.
The tower is set to feature a sleek, modern design, with a lively angular massing clad in a bold mix of glass and metal paneling. The ground level features expansive floor-to-ceiling glass broken up by large support pillars. While the view of the project from the south will be obscured by neighboring structures, it will make a prominent impression from the opposite vantage point, especially given the eye-catching façade presented in this direction.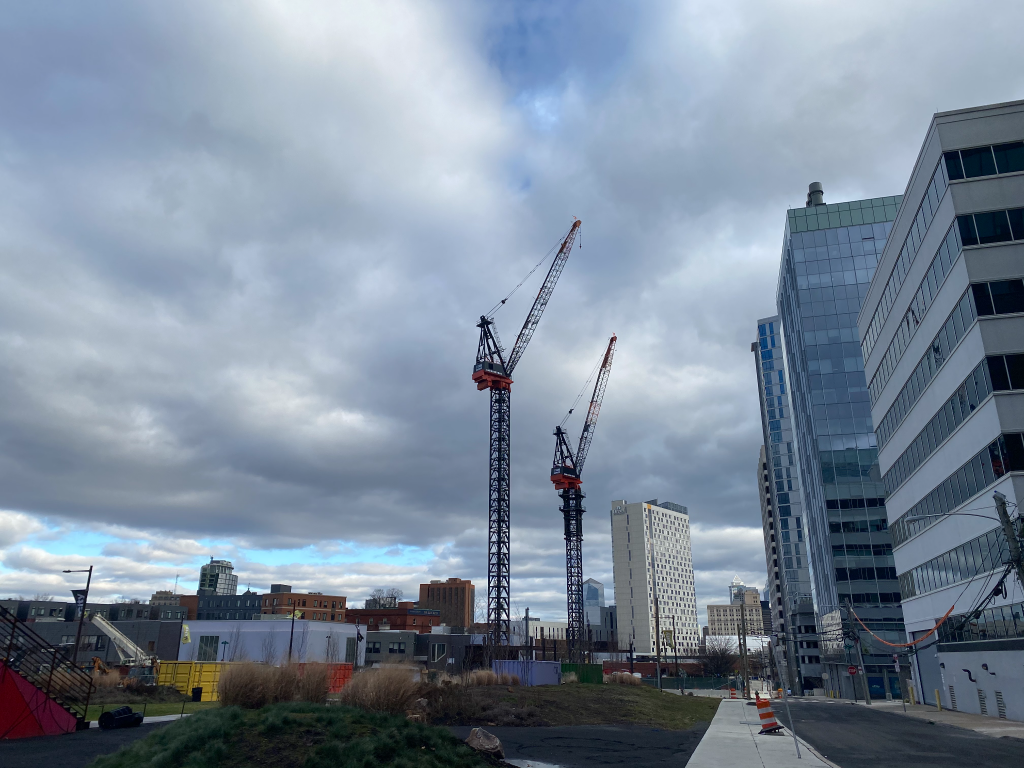 Current Current view of the site. Credit: Colin LeStourgeon.
Recent photos show the state of progress at the site, showing the tower cranes set to help the building rise from the ground. Each is anchored into the earth, braced by small steel frames. The crane to the west currently stands taller, likely suggesting that its eastern counterpart will get bumped higher sometime in the middle of construction.
The tower cranes are currently the only real sign of progress on the property. Work has yet to rise above ground, though activity can be seen on the tower's foundations. Here, the drilling spots can be seen filled with concrete, signaling that they are ready to support the structure.
Currently, no building has yet to rise more than four stories off the ground in uCity Square, though many eventually will. Due to the lack of prominent neighboring structures, the project will be visible from a number of vantage points as it rises and ultimately becomes the first in the development to top out.
Subscribe to YIMBY's daily e-mail

Follow YIMBYgram for real-time photo updates
Like YIMBY on Facebook
Follow YIMBY's Twitter for the latest in YIMBYnews