Permits have been issued for the construction of a three-story mixed-use structure at 4328 Main Street in the heart of Manayunk, Northwest Philadelphia. The building will yield four residential units and a ground-floor commercial space, and will feature a roof deck that has been the subject of opposition from the Historical Commission. The project is expected to cost $600,000 to build.
Renderings depict a modern take on a classic design that should fit in nicely with the aesthetic of Main Street. The façade is composed of a mix of light gray brick and dark gray paneling surrounding large warehouse-style windows. Sections of white trim above the ground floor and at the cornice add contrast.
The rear of the structure features a more modern look, with a simple mix of light and gray paneling and large windows. The project, which also has frontage on the Schuylkill River Trail, will also feature a rear entrance accessible from the multi-purpose trail.
There are conflicted renderings available, each suggesting a different design. The above photo shows windows on the side of the structure, while the featured image does not. Additional renderings of more simple and modern structures also exist, causing a mystery as to what the actual finalized design will look like.
A minimalistic design is shown above with tan brick punctuated with waves of darker gray brick.
Another rendering shows a similar design with dark gray brick as its primary material and angular accenting and gradations.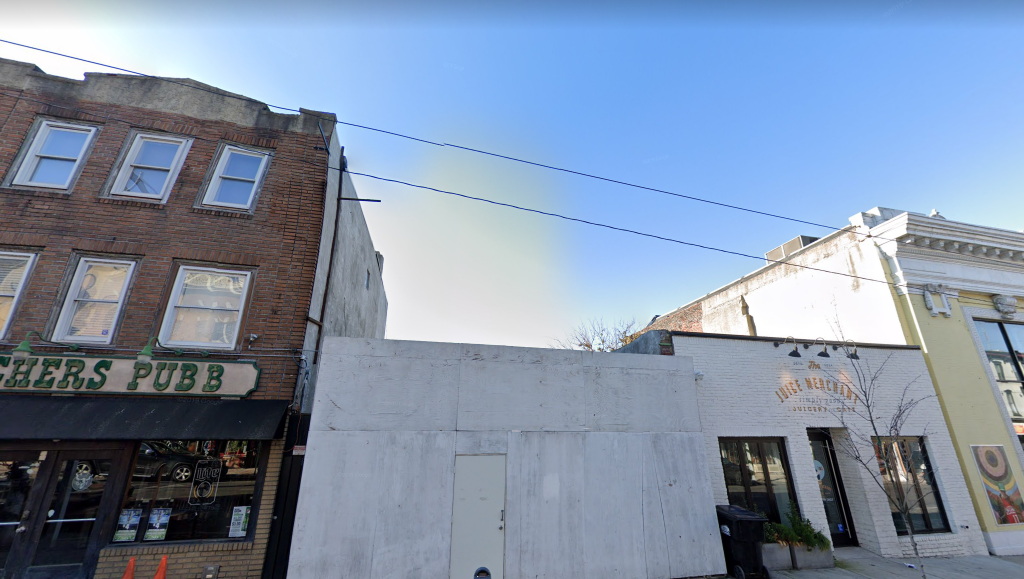 Whatever iteration comes to fruition, the overall massing will remain the same. The building will replace a vacant lot, one of the only remaining on Main Street. The lot is hidden from view in the front from a plain white wall, although aerial imagery shows the rear partially excavated.
Filling in a vacant spot on the lively and vibrant commercial corridor is a major positive for the neighborhood. The new building will maximize the potential of the street and help make the already friendly thoroughfare even more pedestrian friendly. By adding a commercial space to the ground floor, the building will immediately fit into its surroundings. It is also in one of the most coveted open spaces still available in Manayunk, with frontage on both Main Street and the Schuylkill River Trail.
No completion date or construction timeline has been announced for the project.
Subscribe to YIMBY's daily e-mail

Follow YIMBYgram for real-time photo updates
Like YIMBY on Facebook
Follow YIMBY's Twitter for the latest in YIMBYnews